Formosa Pharmaceuticals Pipeline
Kadcyla®Biosimilar|TSY-0110
TSY-0110 aims to be the first-launched biosimilar of Kadcyla, providing HER2+ positive breast cancer patients and insurance providers with an equally effective and more economical option for treatment .
Overview|TSY-0110 Kadcyla® Biosimilar
TSY-0110 is a biosimilar of antibody-drug conjugate, ado-trastuzumab emtansine (Kadcyla®)
TSY-0110 is in late-preclinical development stages, planning for CTA filing in 2H-2022. Formosa Pharmaceuticals is seeking interested parties for regional/global licensing or co-development.
Development Status|TSY-0110 Kadcyla® Biosimilar
Combining the antibody and bioconjugation technology of two top CDMOs in Taiwan, TSY-0110 has achieved excellent biosimilarity, as well as::
Manufacturing Consistency
Successful GMP-like scale-up
Potency, Stability, and Plasma kinetics similar to reference drug
Successful Scientific Advice Meeting with European Medicines Agency (EMA)
Manufacturing and Development Partners |TSY-0110 Kadcyla® Biosimilar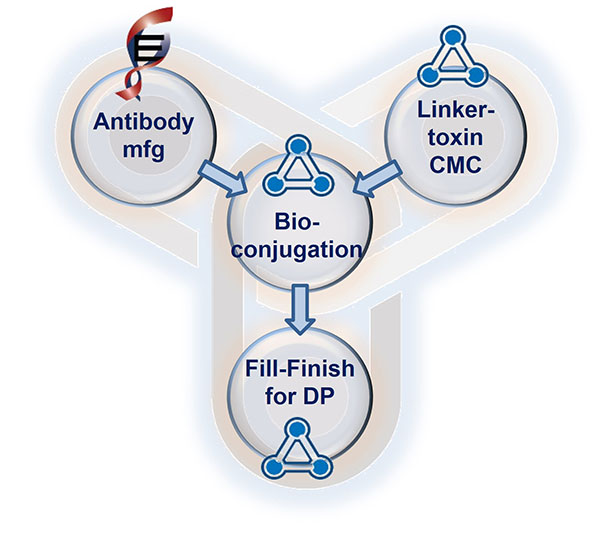 EirGenix
Antibody development and manufacturing EG12014
GMP-approved CMC manufacturing for high-potent APIs
Bioconjugation of antibody and payload
Injectable and pre-filled syringe fill-finish production
Competitive Advantage |TSY-0110 Kadcyla® Biosimilar
Synergies in manufacturing and quality systems

Turnkey solution to ADC manufacturing

Strong and stable supply chain and scalability
Licensing Opportunity |TSY-0110 Kadcyla® Biosimilar
Formosa Pharmaceuticals is seeking interested parties for regional/global licensing or co-development.
We expect to initiate Phase 3 clinical trials after the commercialization partner joins, and the clinical program can be carried out in accordance with the partners' marketing goals and strategies.
About Her2-positive Breast Cancer Market:
In 2020, the cases of new HER2-positive breast cancer in the world annually reached nearly 197,000 cases. By 2030, the number is estimated to be nearly 230,000, for a growth rate of 16.7%.
When trastuzumab biosimilars and other generic drugs enter the market, the HER2-positive segment is still predicted to maintain a growth of 16%, of which China will grow by 72%, the US market will grow by 15.2%, and the EU-5 countries will grow by 3.6%.
Kadcyla® is an Antibody-Drug Conjugate approved for second-line treatment for metastatic breast cancer (2013) and early Breast Cancer (2019).
Roche continues to strengthen Kadcyla's market position through development of a variety of combination or adjuvant therapies.
According to the data from Clinicaltrials.gov, at least 78 oncology drugs from various pharmaceutical companies, utilizing agents with differing treatment targets or categories, are being studied in combination or adjuvant clinical trials with Kadcyla to create opportunities in second treatment line setting.  Among treatment programs of HER2-positive breast cancer, NCCN (The National Comprehensive Cancer Network) designated Kadcyla as the one of the second line treatment regimen for unresectable recurrent breast cancer or advanced breast cancer. Kadcyla works as the next line if the combination treatment of first-line drugs pertuzumab and trastuzumab cannot reach satisfying outcomes.